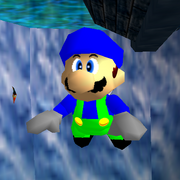 LuigiGame2
is one of
MM54321
's best friends and has appeared in The Cosmic Crystals 4, OO12345 and the Dark Star X, Into the Fourth Dimension and MM54321's other videos. His now closed Youtube account was named LGame2.
His physical appearance is not to be confused with Igiul, Luigi's doppleganger. Their clothes are exactly alike, however, the difference is that LuigiGame2 has Gray Gloves and Black Shoes while Igiul has White Gloves and Brown Shoes. For this reason, in "IGIUL 2!!!!!!!", LuigiGame was framed for Igiul's actions.
Age: 16
Friends: MarioMario54321, Mario, Luigi, LuigiLuigi09876, WiiMario360, Hitkid96fan, Starman3, Lilyncookies, StarigiGame2, MM66666, SuperDanielLogan1 and FourigiGame4!
Dislikes: Dopplegangers, The DSX, Bowser, Dimentio, and Fawful.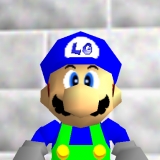 He's one of the most common characters!
He unfortunatly stopped making Youtube videos on April 26, 2012.
However he uploaded a video after the date mentioned above, which is the last part of The Return of Igiul, then he REALLY stopped in May 8, 2012. For personal reasons, as he said on a tweet on twitter, closed his channel in 2018, six years after the last video in 2012.