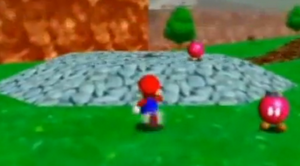 Bob-omb Battlefield is a battlefield where a war between Black
Bob-ombs
and Red Bob-ombs in Super Mario 64. A Chain Chomp lives by a gate which holds a Power Star in it.
King Bob-omb
lives on the top of a mountain here.
Dimentio
found the
Dimensional Backtravel Diamond
that leads to
The Fourth Dimension
here. However, in the fake Part 2, it turned out to be
Fawful
instead.